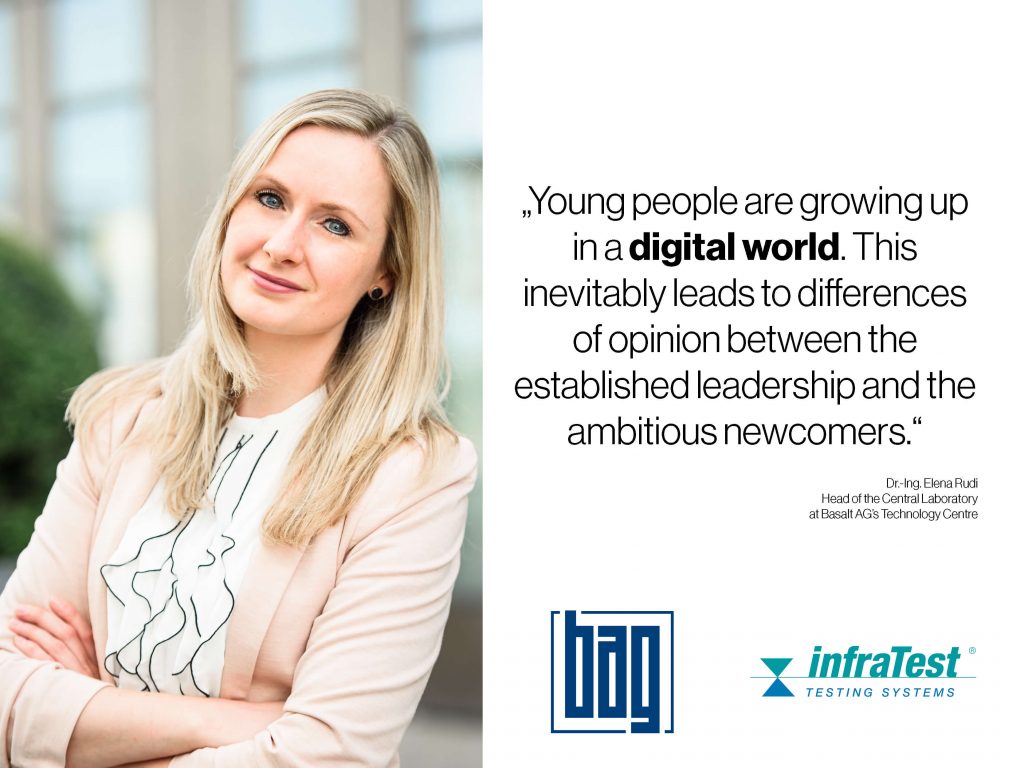 The strong women of our industry continue to go full throttle! In the past weeks, different women have given us insights into their professional lives. For our last power woman interview, we welcome Dr.-Ing. Elena Rudi (Head of the Central Laboratory at Basalt AG's Technology Centre).
infraTest: Good morning, Ms Rudi. When I look at your CV, it seems to have gone perfectly. Did you have a plan from the beginning?
E. Rudi: I already knew in the 11th grade that I wanted to study civil engineering and also at which university. Architecture would certainly have been interesting, but I recognised the advantages of studying engineering after I informed myself more thoroughly. So I resolutely set out on my path.
infraTest: The degree programme consists of different modules. Which subjects were you most enthusiastic about?
E. Rudi: I really liked the road design module. It's a great feeling to be able to plan and design a road from the very beginning. Mathematics, mechanics and statics were also very interesting. Surprisingly, building physics was also one of my favourite subjects. I would never have guessed that during my school days.
infraTest: After graduating, you started your professional career at Basalt AG. Have you worked towards a management position since then?
E. Rudi: No, it just happened. In addition to sound specialist knowledge, a bit of luck is also part of it. I was at the right time, in the right place and got the chance to prove myself as a manager because my predecessor was devoting himself to new challenges.
infraTest: You have been employed at Basalt AG for 8 years and have already gained a lot of professional experience. What do you enjoy most about your job?
E. Rudi: It's the variety! My work is a colourful mix of field appointments at construction sites, office work and research. In our central laboratory, we carry out various performance tests on asphalt and I evaluate the results.
In addition, the exchange with other colleagues is very inspiring. There are many different personalities in our industry. So I always learn something new or get to know something new.
infraTest: And what could you no longer do without in your working life?
E. Rudi: Technical discussions are incredibly exciting and enrich my everyday life. Without communication with my colleagues, I would only enjoy my job half as much.
infraTest: Your consistent diligence has paid off. Looking back, which decisions led to your success?
E. Rudi: I am very happy that I chose Basalt AG at that time. Here I was able to develop steadily and have now found my place. In addition, the doctorate paid off, so that I was now able to take on a management position. In the end, all my decisions came together to form a coherent overall package with which I am very satisfied.
infraTest: How clearly does it feel as a woman to work in a male domain? Do young women have to do more for their success?
E. Rudi: No, I don't see it that way! Thanks to great pioneer women, like Mrs. Hunstock, we can rather talk about a fundamental generation conflict today. Young people are growing up in a digital world. This inevitably leads to differences of opinion between the established leadership and the ambitious newcomers. Both men and women have to prove themselves. If you do excellent work and appear self-confident, this should be rewarded regardless of gender.
infraTest: In which areas of our industry do you think you meet more women? At least on construction sites I hardly see any women.
E. Rudi: No, construction site work is heavy physical work. Not every body can do it in the long run. I think that this work also does not correspond to a woman's usual sphere of interest, although of course there are always exceptions and that is a good thing! Many of my former female fellow students now work for public authorities or in engineering offices. In my year of study, a relatively large number of women studied structural engineering and bridge construction.
infraTest: What do you wish young women who are now entering our industry and what advice would you give them?
E. Rudi: Stay true to yourself. If you really want it and fight for your goal, you will achieve it. Develop passion for your work and burn for what you do. Then success will come almost by itself. Weigh your strengths and weaknesses. That way you will find a position in which you feel comfortable.
infraTest: Thank you very much for these concluding words and the open conversation. With your interview, we have reached the end of our Power Women Month.
We would like to thank all the women in our industry once again for their commitment and look forward to repeating our women's roundtable soon, even if this is only possible online for the time being.