Eberhard Gienger and infraTest discuss the use of porous asphalt
Bundestag member Eberhard Gienger finds out more about porous asphalt from road testing technology manufacturer infraTest Prüftechnik GmbH.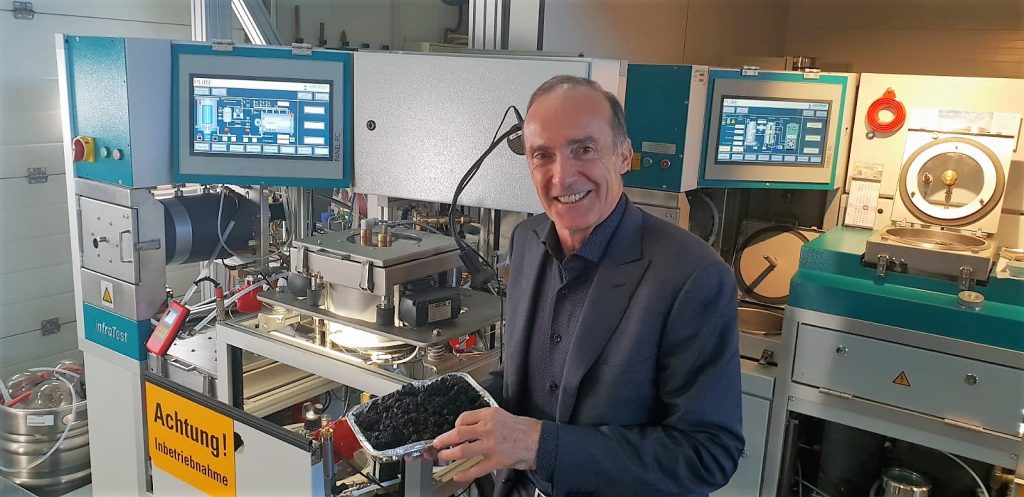 "For me, it is particularly interesting to get a holistic picture of the paving and the properties of porous asphalt. Thank you for the invitation, Mr Martus ", Gienger introduces. "Grandpa or whispering asphalt is a special form of asphalt surface layer that consists of relatively large grains and thus has a porous structure," explains Matthias Martus (managing director of infraTest Prüftechnik).
The Brackenheim-based company is the world market leader for road testing technology and explicitly specializes in asphalt. Almost all well-known building material producers, universities and colleges as well as various test laboratories, private as well as state institutions, belong to the infraTest customer base as well as the big "global players" in the construction industry or the petrochemical industry.
What are the benefits of silent asphalt?
"The increasing noise pollution from increased traffic is a problem for residents, especially in the Neckar-Zaber constituency. I hear the silent asphalt can help. Isn't it the case that the asphalt absorbs noise due to its special structure, asks Gienger, and doesn't the high cavity of the whispered asphalt also lead to lower tire noises and doesn't the surface water seep away very quickly?
What are the disadvantages of porous asphalt?
"That's true! At first glance, the silent asphalt is a very promising solution. The question is what the objective is. So the silent asphalt would be less suitable for the inner city area. Because the asphalt can only absorb a limited amount of water and requires special drainage systems, which often cannot be guaranteed there. On the other hand, it is well established on motorways and expressways, " explains Martus.
Investment decisions always take costs into account. "It can be stated that the acquisition and maintenance costs for silent asphalt are significantly higher than for conventional asphalt. Damage can only be repaired over a large area and the maximum useful life is 10 years, "continues Martus. The responsible use of resources has a high priority for politics and must also be reflected in environmental protection. "Consider the use of road salt in winter. As you can imagine, the asphalt swallows large amounts of salt, aided by its open pores, so that more has to be spread, "explains Martus.
What is our recommendation?
"In summary, the situation must be weighed up. The whispered asphalt fulfils its purpose. However, due to its special nature, it presents us with financial and organizational challenges. There are always two sides of the coin, "summarizes Gienger. "I see it very similarly. Thanks for your visit. If you have any further questions, please do not hesitate to contact us, "concludes Martus with a smile.